​​CHANGE YOUR MINDSET,  CHANGE YOUR APPROACH
                                                      CHANGE YOUR OUTCOME
Culture is a competitive advantage.   Whether in business,  athletics,  fine arts,  schools  or any type of
organization,  the culture dictates the results.   It's not so much

what

you do, but

how

you do it.  
​​
Leaders drive and promote the culture.  

This is why you need strong servant leadership within your organization.  Servant Leadership is the foundation of any successful organization.  
Todd Dufault

is a difference maker.   He has 35 years of working with students, adults and leaders all over the country.    His proven leadership principles and processes will help improve your culture, enhance communication, create connection, build trust, generate commitment, foster teamwork and deliver sustained positive results in your organization.  
It starts with the people and and the level of ​​​"BUY IN", which represents who a person is and what they believe.   It's the ultimate level of trust.    Trust is earned and built through relationships.

​In setting the foundation to success, Todd focuses on FIVE main pillars:  
​

1. Culture of Excellence 
2. Servant Leadership
3. Trust
4. Relationships
5. Communication

​

​​​​

​

​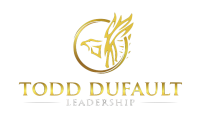 Building a Culture of Excellence is an on-going process.   Either you are working to maintain or working to build.    Todd Dufault Leadership can help you build the proper mindset and servant leadership in your organization to sustain the results you want.    


Todd speaks on various topics  ( attitude, culture, leadership, teamwork, motivation, decision making, commitment, relationship building, work ethic, ownership, accountability, effort, coachability, team first mentality, trust, communication).   He can change the way you think and the way you choose to live your life.


"WHAT YOU GIVE, IS WHAT YOU GET"